One in every two households on the planet is home to a companion animal. Aware of their importance in our lives and the emotional ties that bind us, Virbac offers an integrated approach to the health and well-being of our companions: effective, complementary solutions that are easy to administer and suited to the needs of each species.
In every region of the world, Virbac covers the most common pathologies in companion animals: dogs, cats, horses, as well as birds, rodents, ferrets, reptiles, etc. The Group provides a cross-functional solution that combines diagnosis, treatment and nutritional tools, as well as services for veterinarians: scientific training, diagnosis assistance, etc. For example, canine leishmaniosis is targeted using a diagnostic test, a vaccine, a parasiticide with a repellent effect and a prescription medication. Likewise, Virbac's approach to allergies in dogs combines skin care solutions (calming shampoo, soothing spray, spot-on serum), topical or systemic medicated treatments, and a nutrition range dedicated to animals with allergies.
Using an innovative approach that relies on the latest medical advances, particularly in the areas of reproduction, vaccination, dermatology, nutrition and dentistry for cats and dogs, Virbac is helping to advance veterinary practices.
Making life easier for practitioners and owners by paying special attention to the well-being of companion animals is accomplished by developing products that take the behavioral specificities of each species into account. That is why we work to develop award-winning and innovative galenics, formulations and packaging, designed to simplify the administration of products.
A PREVENTIVE AND MEDICAL APPROACH FOR DOGS
Unconditional love, unfailing loyalty and an exceptional ability to read our emotions: dogs are truly wonderful companions, by our sides from childhood to old age.
To keep them in good health and provide them with tailored care throughout their lives, Virbac has developed a wide range of palatable products to cover their key needs:
nutrition, thanks to an innovative range that meets the needs of carnivores;
dental hygiene, with simple and effective solutions to fight tartar, dental plaque and bad breath;
skin care, allergies and ears, common issues during veterinary visits for dogs;
protection against infectious diseases, with a targeted range of vaccines and special expertise in leishmaniosis and dirofilariasis;
reproduction, particularly with regard to alternative solutions to neutering;
parasiticides, where Virbac is regarded as a pioneer for its topical solutions;
diagnosis, thanks to a range of bio markers and detection tests of infectious or parasitic diseases.
A 360° SOLUTION FOR CATS
More numerous than dogs in many countries, cats are less medicalized. This is due to their independent nature, making detection of clinical signs such as pain difficult to detect. But it is also due to their sensitivity to odors and stress, which can make a simple visit to the veterinarian a real challenge. Virbac is developing a 360° approach for cats, based on an analysis of their needs and behaviors:
vaccines and parasiticides;
bio-markers and detection tests for infectious diseases;
food supplements, medications, pheromones for behavioral use;
nutrition, with the HPM range, winner of several awards for perfectly meeting the specific needs of carnivores;
electronic identification.
For all of these products, particular attention is paid to ease of use, palatability and the duration of action, all prerequisites for good compliance.
SOLUTIONS FOR MANY SPECIES, ALL AROUND THE WORLD
Although dogs and cats remain owners' preferred companion animals on a worldwide scale, Virbac also meets the health needs of less widespread species or those who are more specific to a geographical area. That is the case for exotic companion animals (birds, rodents, ferrets, reptiles, etc.) that have become more common in homes over the past few decades, particularly in some countries, such as France. Virbac provides the owner with a range of specific food supplements and vitamins to maintain the nutritional balance of these animals, often subject to dietary deficiencies and imbalances of the intestinal flora. Likewise, Virbac helps veterinarians and horse owners to safeguard the health of their companions (nutritional supplements, tooth and skin care), protect them from parasites (dewormers) and fight major pathologies, especially laminitis.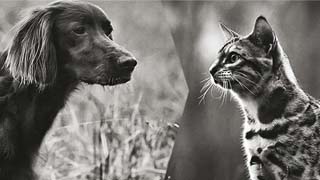 Veterinary HPM